Voor de Nederlandse versie klik hier.
In 2021 we called on bookbinders to participate in the Box your Book competition and to design and make a special box for their favorite book. A total of 110 participants from 13 countries responded to this call and registered. In the end, the Stichting Handboekbinden (the Dutch Society of Bookbinding) received 89 submissions that the jury had to consider.
All boxes have been assessed by a jury of experts. Karen Polder, graphic + spatial designer, Marja Wilgenkamp, renowned bookbinder and box maker and Wim Kamsteeg, as well as Marja bookbinder and box maker. The jury judged, among other things, on the criteria 'technical execution'. A general criticism was that many books were too spacious in the boxes. This could cause them to slide and get damaged. The jury also worked with the criteria 'graphic design (use of colour and materials, typography and composition) and 'concept'. The jury deliberated, discussed and nominated..
The results
There is no 1st, 2nd or 3rd prize in this competition, but 34 boxes have been nominated and selected for the exhibitions in the Netherlands and Belgium. These award-winning boxes are also included in a beautiful catalogue with photos, an explanation and a summary of the jury assessment. The boxes of the other participants are also included in the catalogue with an image and name of the maker.
The entries can be seen on separate cards in a beautiful box. You can still buy this catalogue for the modest price of € 17.50 (excluding shipping costs). You can order the catalogue by e-mail to info@stichting-handboekbinden.eu Please mention your name and address in the mail.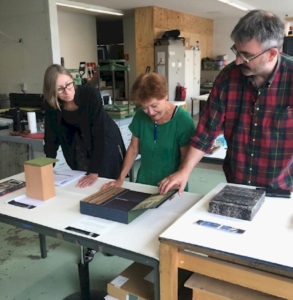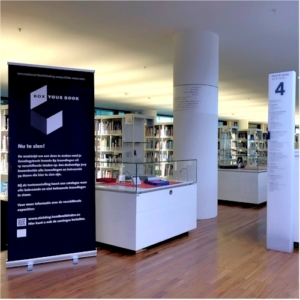 Now on show!
From February up to early October 2022, the 34 award-winning boxes will be on display in a series of unique exhibitions in the Netherlands and Belgium. Each box contains a favourite book of the maker and that has led to special works of art! A canned salmon, a clock, a box lined with dozens of smaller books…
The exhibition can be visited at the following locations and time periods:
February and March: OBA Oosterdok | Oosterdokskade 143 | 1011 DL Amsterdam, NL
April: Museum Jan Boon | Straight Street 146 | 1483 BG De Rijp, NL
May and June: Bookbinding Center Echten | Zuidwolderweg 2 | 7932 PP Echten, NL
July and August: BplusC Library Leiden | Nieuwstraat 4 | 2312 KB Leiden, NL
3rd of September – 8th of October: Cultural Centre Scharpoord | Maxim Willemspad 1 | 8300 Knokke-Heist, BE